This tasty hamburger soup became a fresh 2nd Dinner the following night. This is a great way to make leftovers into something new.
1-1/2 pounds of hamburger
1/2 cup chopped onion
olive oil
1/2 tsp. salt
1/4 tsp. pepper
4 carrots sliced
1 bell pepper diced
1 Jalapeno pepper diced (optional)
1/2 onion chopped
32 oz. beef stock
1- 28 oz. can of crushed tomato
1 -15 oz. can of black beans drained and rinsed
1-15 oz. can of kernel corn drained
salt and pepper to taste
In a Dutch Oven saute the 1/2 cup chopped onion in a little olive oil until soft. Add hamburger and salt and pepper to the onion and cook till hamburger is no longer pink. Drain the hamburger and set aside. In the same dutch oven add a little more olive oil and saute the other 1/2 cup of onion, bell pepper, carrots, and jalapeno till softened about 3-5 minutes. Return hamburger to the dutch oven. Add the rest of the ingredients and bring to a boil. Lower the heat and simmer for at least 30 minutes. Taste and see if you should add more salt or pepper.
Serves 6-8
Serve with good crusty bread.
This ended up being more soup than our family could eat in one sitting. I decided to change up the leftovers for a different dinner the following night.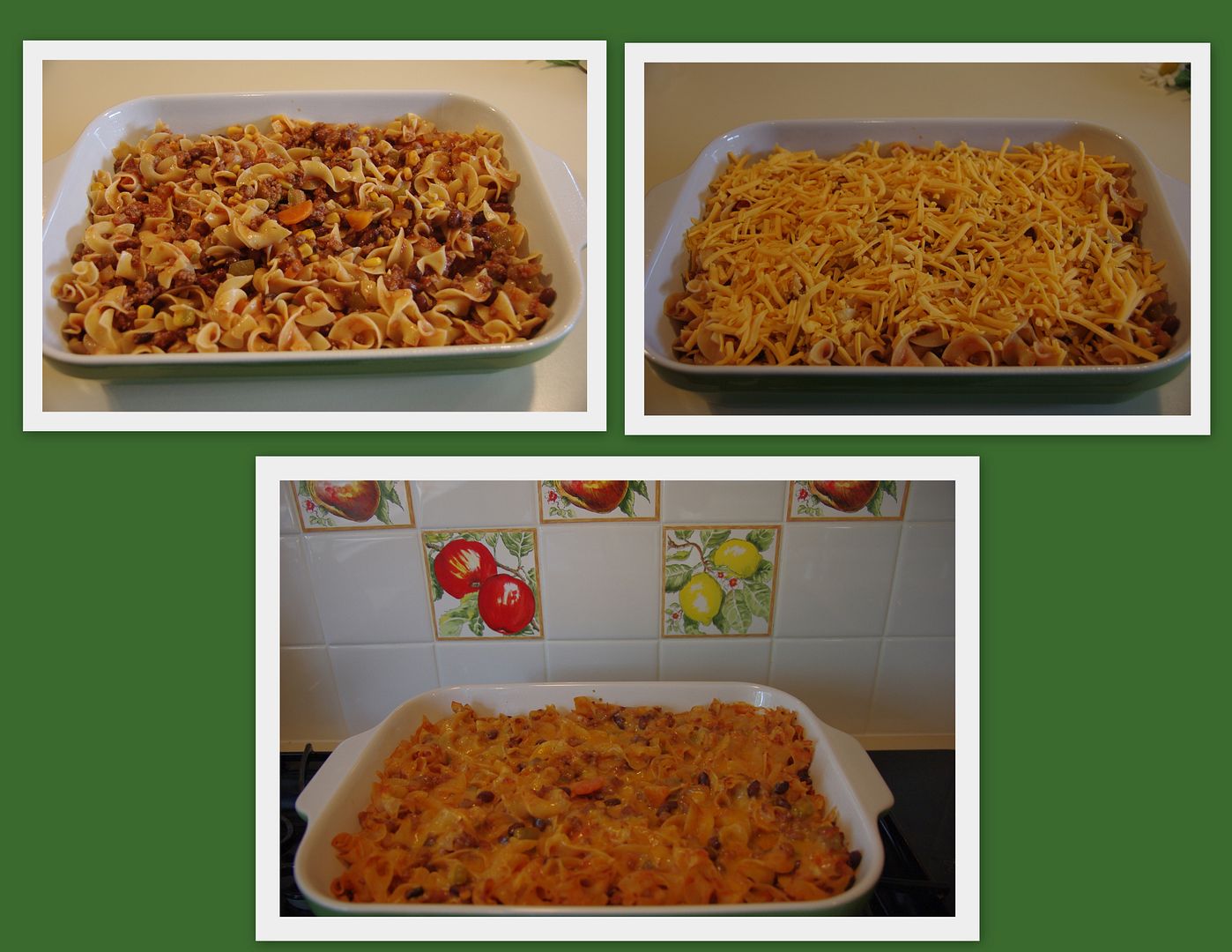 Ingredients for dinner #2:
1- 12 oz. package of noodles
6-8 oz. grated cheese of your choice
Grease a 9 x 12 casserole dish. Cook the noodles in well salted boiling water till al dente. Drain and then pour into prepared casserole. Add the left over hamburger soup to the noodles and mix well. Top with grated cheese of your choice and cook in a 350 degree oven for approx. 30 minutes. Serve with a nice green salad.