Happy 4th of July to all our U.S.A. Readers! I'm sharing this old time favorite recipe that has been circulating for years and that many of you might be familiar with. I've posted this on my blog and I have had over 48,000 views. This is a picnic, potluck and barbecue favorite!

To make these wonderful bars you will need 1 cup sugar, 1 cup Karo Light Corn Syrup, 1 cup Creamy Peanut Butter, 6 cups Rice Krispies, 1 cup Butterscotch Chips and 1 cup of Semi-Sweet Chocolate Chips.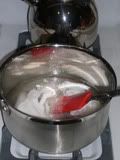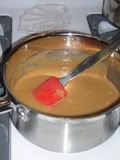 Bring 1 cup sugar and 1 cup Karo light syrup just to a boil mixing well. Take off heat and add 1 cup peanut butter and mix till smooth.
Add 6 cups Rice Krispies and mix till all the krispies are coated well.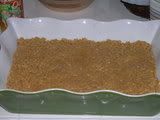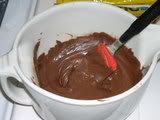 Put this mixture into a well greased 9×12 pan and press down evenly into the pan. Empty chips into microwaveable bowl and microwave at 3-30second intervals, mixing well after each 30 seconds. Mix together till smooth. (You can use the double boiler method to melt your chips if you prefer). Pour entire mixture on top of the pressed down Rice Krispies and spread to cover. Let them cool and then enjoy!