My mother and the Russian immigrants I grew up around would make and enjoy this Cherry Syrup that they called Cherry Varenya to sweeten their hot tea. They used whole pie cherries for this recipe. I got this recipe from my mother.
This is a very simple recipe for Cherry Varenya.
Cherry Varenya
1/2 Cup Water
1 Cup Sugar
1 Cup Whole Sour Cherries (Pie Cherries)
1 Tablespoon fresh lemon juice
You would increase the proportions of this recipe according to how many cherries you have on hand that you want to make into Varenya.
Boil the water and sugar to make a clear simple syrup. When the liquid is clear add your cherries and let it boil for 10 to 20 minutes (depending on how hard the cherries were to begin with) At the end of the boiling add 1 Tablespoon of fresh lemon juice to help preserve the brightness of the syrup.
You could increase the ingredients to have enough to can for future use. I don't know if I should admit this but I have never canned anything. If you are familiar with canning I'm sure you can do it successfully with this syrup.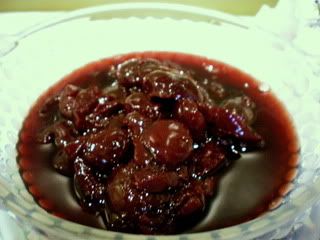 You can do this process with sliced lemons, too, to make a Lemon Varenya.
Lemon Varenya
When I was young our family would go to a Cherry Orchard somewhere near Lancaster, California in July when the pie cherries were ready to harvest. It might have been in the Leona Valley. We would pick cherries all day and take home upwards of 40 pounds of cherries. That's a lot of Cherries. When we picked this much my parents would give about half of the cherries away to other relatives and friends who couldn't make the trek out to the Cherry Farm. Then it was a full day of preparing the cherries for Varenya. Washing, cooking and canning.