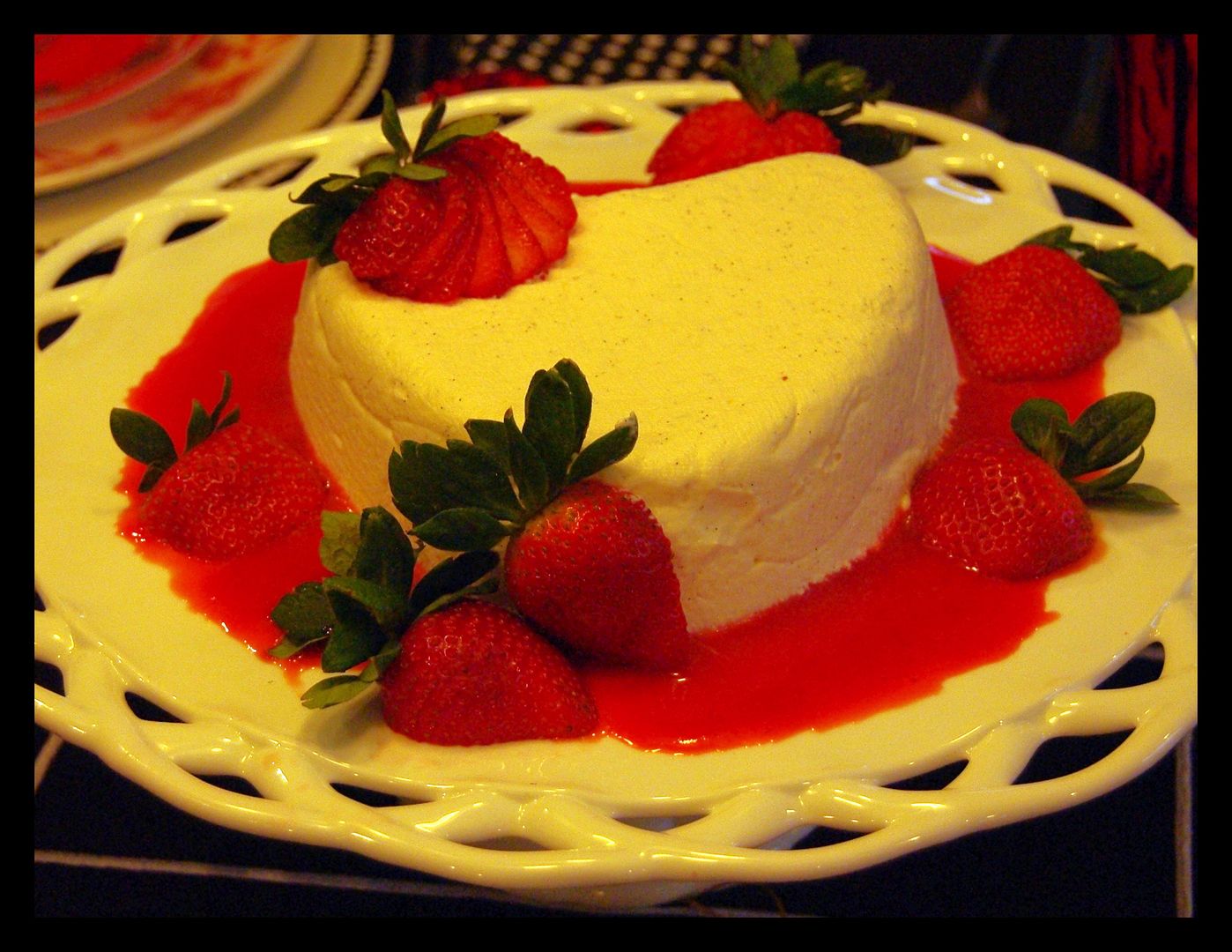 This is a fluffy sweet cheese/cream dessert that has a great presentation for Valentine's Day. (The winner of our cookbook drawing from yesterday is at the end of this post)

I use a Coeur a la Creme mold that I bought at a specialty kitchen store but you can use any 7 inch sieve.
Coeur a la Creme with Strawberry Sauce

Ingredients:
8 oz. ricotta cheese
1 cup confectioners sugar
2 cups heavy whipping cream
1-1/2 teaspoons vanilla
seeds scraped from 1 vanilla bean
1/4 teaspoon lemon zest
Sauce:
1 pound frozen or fresh strawberries
1/2 cup water
1 Tablespoon fresh lemon juice
6 Tablespoons sugar
With the paddle attachment beat the ricotta cheese and confectioners sugar in the bowl of an electric mixer for 2 minutes. Scrape down the bowl. Change to a whisk attachment. With the mixer on low speed, add the heavy whipping cream, vanilla, lemon zest, and vanilla bean seeds and beat on high speed until the mixture is very thick, like whipped cream.
Line your mold or sieve with cheesecloth or paper towels so the ends drape over the sides and suspend over a bowl, making sure there is space between the bottom of your mold/sieve and the bottom of the bowl so liquid can drain. Pour the cream mixture into the cheesecloth, fold the ends over the top, and refrigerate overnight.
For the sauce place the strawberries, sugar, lemon juice and water in a small saucepan. Bring to a boil, lower the heat, and simmer for 4 minutes. Pour the cooked strawberries into the bowl of a blender and blend until smooth. Chill.
You could substitute raspberries for the strawberries to make the sauce.
To serve, discard the liquid, unmold the cream onto a plate, and drizzle strawberry sauce around the base. Serve with strawberries and extra sauce.
ANNOUNCEMENT!! THE WINNER OF OUR COOKBOOK DRAWING IS…NAOMI from Chilliwack! Naomi, we'll be contacting you by email soon.