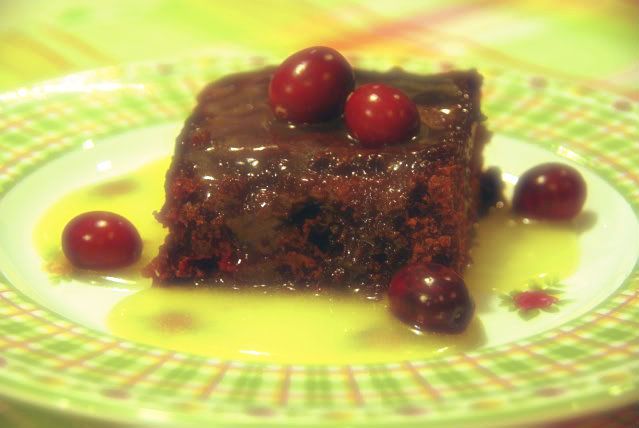 This is a wonderful winter dessert with a warm sauce.
Mix Together:
1 egg beaten
1/2 cup dark molasses
1/2 cup sugar
1/2 cup hot water
1-1/2 cup flour
1/2 teaspoon salt
2 teaspoons Baking Soda
1-1/2 cups whole cranberries (frozen okay)
After you've mixed these ingredients well pour into a lightly greased 9x9 baking dish. You can double the recipe and use a 9x11 pan. Bake for 35 minutes in a 350 degree oven.
This can be made a day ahead of serving.
Just before serving prepare the sauce:
Mix together:
1 cup sugar
1/2 cup butter melted
1/2 cup cream
Bring these ingredients to a boil. Cut cake into serving portions and pour enough sauce over each cake portion to cover. Serve immediately. The sauce is a very important part of this recipe because the cake is tart and the sauce brings a wonderful balance between tart and sweet. Enjoy.