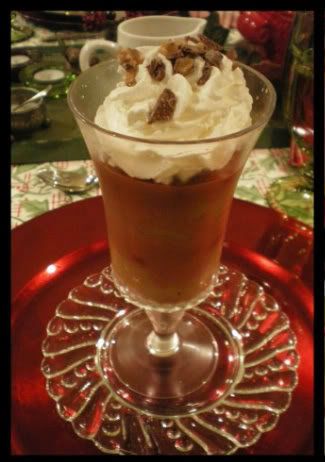 I got this recipe from my mother over 35 years ago and have no idea where she got it from.
serves 4
1- 3- or 3 1/4 oz package regular vanilla pudding mix
1 tbsp instant coffee powder
1 3/4 cups milk
1/2 cup semisweet chocolate pieces
1- 6oz (2/3 cup) evaporated milk
2 chocolate covered english toffee bars (5/8 oz each) coarsely crushed
whipped cream
In medium saucepan, combine pudding mix and coffee powder; gradually stir in milk til mixture is blended. Cook over medium heat, stirring constantly til mixture comes to boiling. Remove from heat and cover surface of pudding with waxed paper or plastic wrap. Cool and chill. In small saucepan combine chocolate pieces and evaporated milk. Cook and stir over low heat til mixture boils and chocolate is melted. Cool and chill. Remove paper from pudding mixture; spoon half the mixture into 4 parfait glasses. top with half the chocolate sauce and half the crushed candy etc. etc. Top off with whipped cream and remaining candy.

This would be a great dessert for Valentine's Day!