My Russian heritage affords me some really good Easter eats. Every year we look forward to having our Easter Bread which we call Kulich in Russian and my Mennonite Friends call Paska.
We also make this yummy cheese spread to spread on this Easter Bread!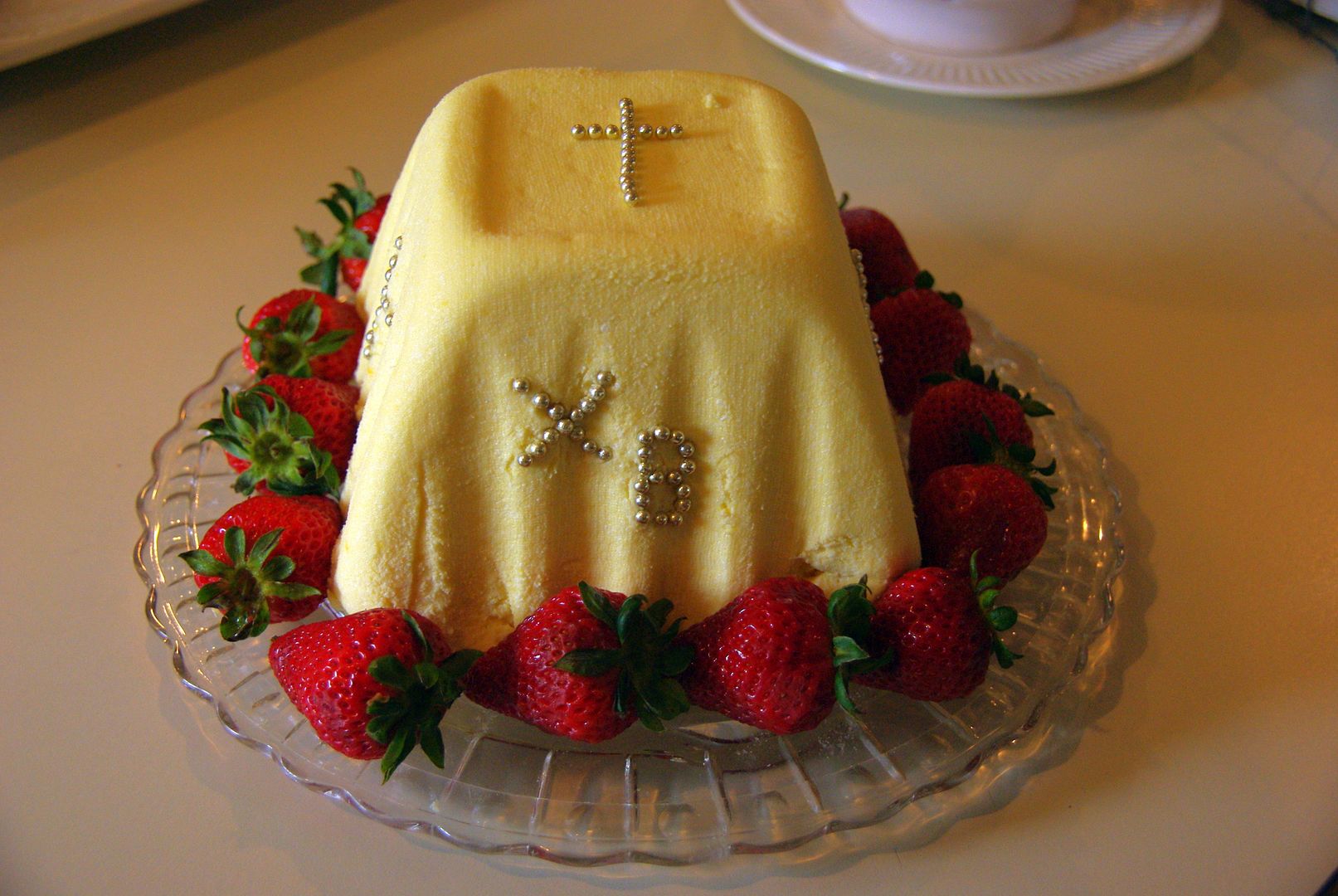 Seernaya Paska for Kulich (Russian Easter Bread) The X and the B are for Xpucmoc Bockpec (Christ Arose)
Seernaya Paska
Ingredients:
18 - hard boiled eggs /3 pounds Farmers cheese /a dry curd cheese like a dry cottage cheese can be substituted.1 pint whipping cream /3 cubes unsalted butter (12 oz.) /3 cups sugar /
Press the Farmers cheese through a sieve only if the curds are large and hard. You can skip this step if your cheese is soft and the curds are very small. (This is the hardest part of the recipe) I usually use a wooden spoon and press it through a wire strainer a little at a time. Separate the egg yolks from the whites. (You will not be using the whites).
Press the egg yolks through the sieve. Cream the sugar and butter together. Beat in the egg yolks. Beat in the cheese. Add whipping cream and mix well. You will place the mixture into a strainer lined with about 3 layers of cheesecloth. You will need enough cheesecloth to wrap up and over the top of the cheese. Place the cheese mixture into the cheese cloth lined strainer. Bring the ends of the cheese cloth up and tie the ends on top of the cheese in a knot. Place the sieve into a larger bowl suspended with enough room for the cheese to drain without sitting in the drained liquid. Place a plate on top of the cheese an place a heavy rock, brick, or other weight on top of the plate. Refrigerate over night.
This recipe is enough to feed an army. If you don't have to feed an army here's a scaled down version :0)
If you just want a normal amount, cut the recipe in thirds. (6 cooked egg yolks, 1-lb. cheese, 2/3 cup whipping cream, 1 cube butter and 1 cup sugar. Enjoy!
Farmers Cheese or Hoop Cheese can be hard to find. There are Russian delis that sell a dry curd cottage type cheese that will work. If you can find a dry cottage cheese at the grocers that will work too.This recipe is enough to feed an army.