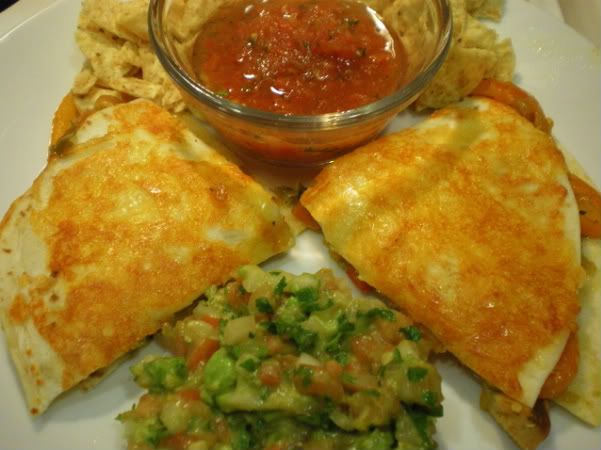 We had some left over barbecued chicken breast so I decided to make Quesadillas for dinner last night with a new twist. I carmelized the onion, bellpepper, Anaheim green chile and half a jalapeno in some olive oil. When they were soft I added the leftover chicken and let it heat through.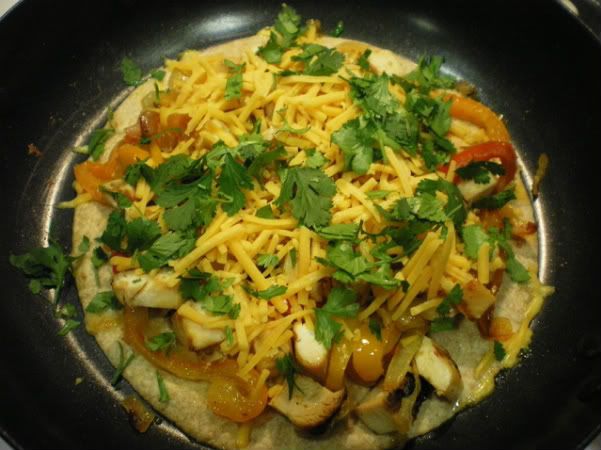 My girlfriend Jody taught me this great trick to make your tortilla a little crunchy and with some added flavor. Put some cheese in your heated pan first. Then lay the first tortilla over the cheese and let the cheese crisp up and stick to the tortilla. Put some cheese on the exposed part of the tortilla, to taste. Put your filling on top of the of the cheese and then add the second tortilla on top. If you really like a cheesy quesadilla you could add more cheese on top of the filling too. The hardest part of this meal will be fipping the quesadilla without losing all the filling. Oh I almost forgot, I also toss in a good amount of cilantro.
We used white flour tortillas and Whole Wheat tortillas. We decided we'd just use the whole wheat in the future because of the added fiber. After you add all those fillings it's not the tortilla you taste anyway. Serve with a salad and guacamole, chips and salsa. We are fortunate to have a wonderful Mexican market close by that makes it's own salsa and guacamole daily. Enjoy!