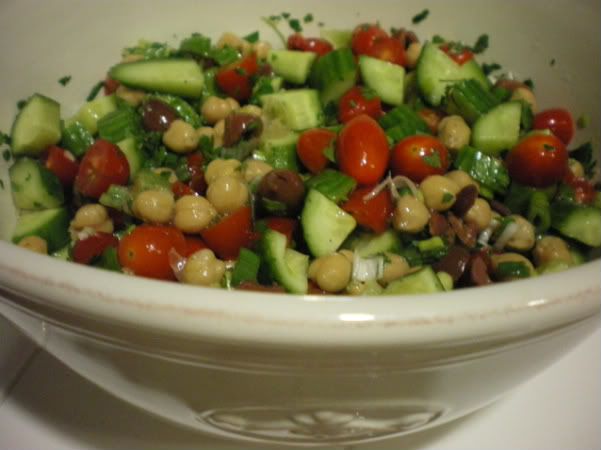 Greek Salad

1 cup cucumber sliced
1 cup tomatoes, chopped
1/2 cup canned chickpeas (garbanzo), drained, rinsed.
1/4 cup kalamata olives, pitted, sliced
1/4 cup scallions, sliced
1/4 cup coarsely chopped parsley
Juice of 1 lemon
1 clove garlic minced
1 teaspoon sugar
Salt and pepper to taste
2-3 Tablespoons extra-virgin olive oil
3 Tablespoons fresh mint, chopped
One thing I didn't add that would enhance the salad is feta cheese!

Combine the cucumbers, tomatoes, chickpeas, olives, scallions, and parsley in a large bowl.

Whisk together lemon juice, garlic, sugar, salt, and pepper for the vinaigrette in a bowl.
Drizzle olive oil into lemon juice mixture in a steady stream while whisking, after it emulsifies stir in mint and adjust seasonings to taste.
I'm pretty sure I more than doubled the recipe and it's great the second day, too. I served it with Marinated Chicken Breasts.